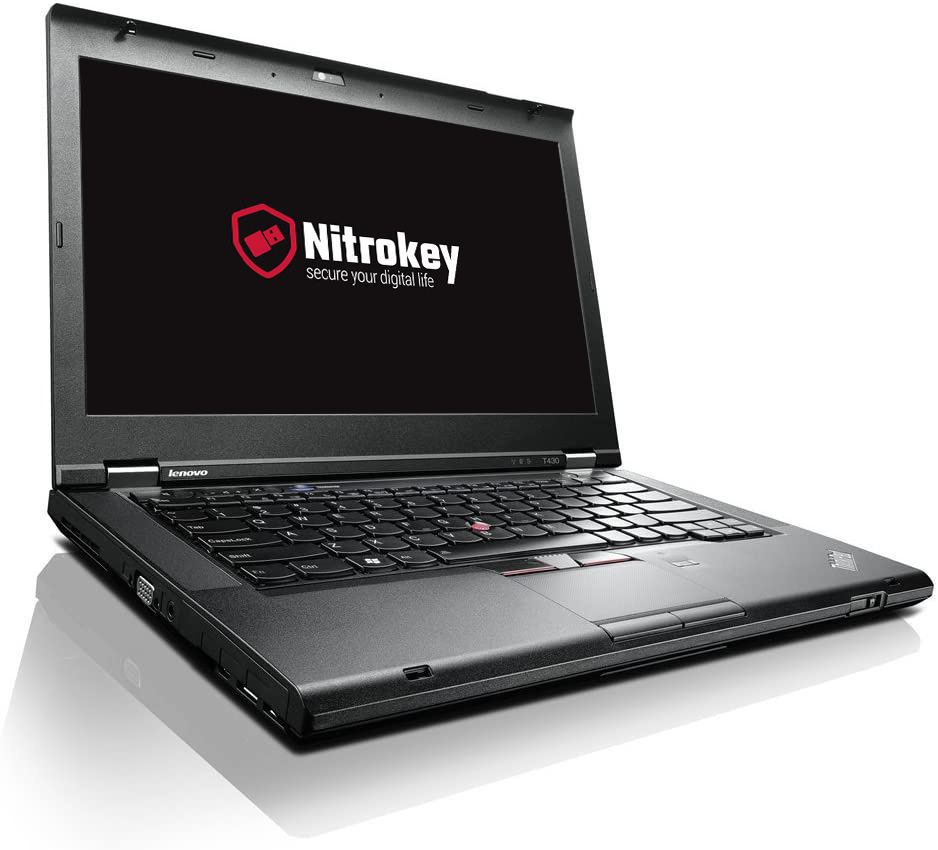 NitroPad T430

Working in Insecure Environments
Secure Working in Insecure Environments Thanks to Unique Hardware Protection
Do you think your computer hardware is secure? Can you rule out that in your absence no one has manipulated your computer? In a world, where most users do not have any real control over their hardware and have to blindly trust the security promises of vendors, NitroPad unlocks a refreshingly new security experience. NitroPad X230 is significantly more secure than normal computers. With NitroPad, you'll have more control over your hardware than ever before while maintaining ease of use.
Features
Tamper Detection Through Measured Boot

Deactivated Intel Management Engine

Preinstalled Ubuntu Linux With Full-Disk Encryption

Optional: Preinstalled Qubes OS For Highest Security Requirements

Keys Under Your Control

Nitrokey USB Key Included

Professional ThinkPad Hardware

Out-of-the-Box User Experience

Security Conscious Shipping
Use Cases
For Everyone

NitroPad enables you to detect hardware tampering. For example, if your laptop is being inspected while crossing the border or if you leave your device unattended in a hotel or during travelling, you can check the integrity of your NitroPad with the help of the Nitrokey.
For Enterprises
NitroPad can serve as a hardened workstation for certificate authorities and other use cases requiring high-security computers. On business trips, the NitroPad protects against evil maid attacks while the computer is unattended in a hotel or baggage.
For Governments
Governments can use NitroPad to protect themselves against advanced persistent threats (APT) without relying on foreign proprietary technology.
For Journalists

If you as an investigative journalist are serious about protecting your confidential sources, NitroPad helps you getting there.


Technical Details
| | | |
| --- | --- | --- |
| Form factor: Notebook |  Sound: Dolby Advanced Audio 2.0 | Miscellaneous: Multifunctional touchpad + TrackPoint |
| Manufacturer: Lenovo |  Network (LAN): Gigabit Ethernet | BIOS/UEFI: Coreboot, Heads |
| Model: ThinkPad T430 | WiFi: Intel 802.11b/g/n 2200N | Operating system: Linux |
| Processor (CPU): Intel Core i5-3320M 2x 2.60 GHz (Turbo: 3.30 GHz), i7-3632QM 4x 2.20 GHz (Turbo: 3.20 GHz) or i7-3840QM 4x 2.80 GHz (Turbo: 3.80 GHz) (all 3rd generation) | Bluetooth: Included | Color: Black |
| Intel Management Engine: Deactivated | Webcam: HD (720p) with face tracking | Dimensions: 350.5 mm x 232 mm x 29.9 mm |
| System memory (RAM): 4-16 GB DDR3 | Card reader: 4-in-1 card reader (MMC, SD, SDHC, SDXC) | Weight: ca. 2.16 kg |
| Hard drive: 250-500 GB HDD, 120-2000 GB SSD | Interfaces: 2x USB 3.0, 2x USB 2.0 always-on, Mini Displayport, VGA, combined audio-in/out, LAN (Gigabit Ethernet) RJ45, docking port, Kensington slot | Device condition: Refurbished, scratches, pressure marks on the screen, minor cracks in the casing and/or other minor flaws (optical shortcomings). Technically flawless. |
| Chipset: Mobile Intel QM77 Express | Extension ports: Express Card (54 mm) | Scope of supply: Laptop, power supply, power cable, Nitrokey Pro 2 or Nitrokey Storage 2 |
| Graphics: Intel HD Graphics 4000 | Battery: Used, exact battery life not determined | 1 year warranty |
| Screen: 14" 1600x900 HD+, LED backlight (optional), matt TFT | Keyboard: Keyboard backlight (optional), German or English as sticker | Illustrations similar |